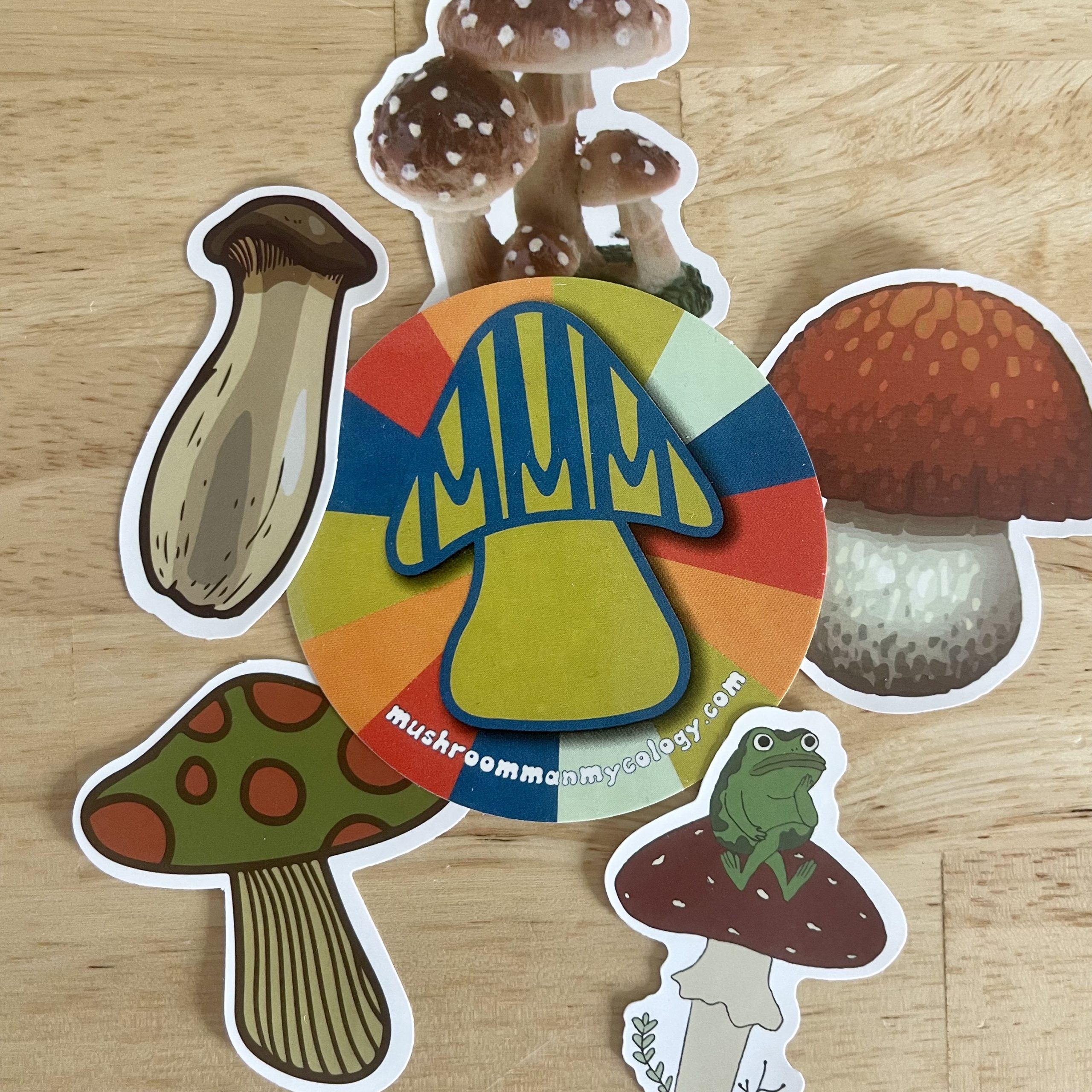 MushroomManMycology Sticker Pack
$3.00
See below for full product description and examples of some sticker packs that have been sent out.
Share photos of where you put your MMM sticker!
In stock
Description
This item is a pack of 6 total stickers. This includes 1 3″ x 3″ MushroomManMycology logo sticker and 5 random Mushroom/Nature/Mycology themed stickers.
Profits from sticker orders help to fuel item freebies, giveaways, sticker freebies, and allow me to promote more sales. So thank you for grabbing some stickers!
Note: As of Nov 2021, each website order receives at least 1 free mushroom themed sticker and 1 free MushroomManMycology logo sticker (as long as they are in stock) so purchasing the Sticker Pack will give additional stickers to share with friends 🙂
Some examples of what you can get with the sticker pack item (note that the non logo stickers received will likely be different than those in the photo):
Show off your MMM support, submit a picture of where you put the MMM sticker!
Additional information
| | |
| --- | --- |
| Weight | 5.669905 g |
| Title | Default Title |
Good stuff
Sticker pack is just like everything MMM sells, all high quality stuff! No need to shop elsewhere when the satisfaction rate is 100%. Always feel important and taken care of. Thank you!
Cute Sticker Pack!
Had two Mushroom Mycology stickers and five assorted mushroom stickers!
So good my gf stole them
arrived fast and were good quality with good designs!
Great little sticker pack!
I wanted some mushroom-themed stickers for my microscopy gear and what better place to get them than from my #1 favorite vendor? Did not disappoint!
First Order will NOT be my Last - Awesome First Experience
Website Selection 5/5
Ease of Ordering 5/5
Sticker Pack 5/5 - my fav, see below
Spore Syringes 5/5
Zelle Payment 5/5
Freebies 5/5
MMM Customer Support 100/5.
Professional | Authentic | Responsive
Thank you for the great products and service you provide.
Stickers?!!
How can you go wrong? Super Rad!!