Sale!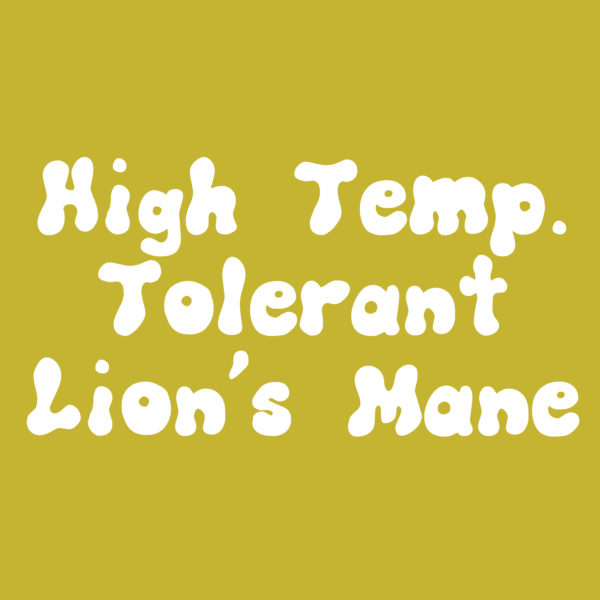 Lion's Mane (High Temperature Tolerant) Agar Wedge
In stock
Description
Hericium erinacius
This culture of lion's mane is able to fruit at higher temperatures than the standard lion's mane culture we have available. A great option for locations that are hot, or as a seasonal culture to run during summer. This culture can fruit into the 80's (°F) and down to 55-60°F like the standard Lion's Mane.
Lion's Mane pins

Lion's Mane Fruit
(3rd flush grown by @808mushrooms)

All agar wedges are colonized agar pieces cut to fit in a 1.5 mL microcentrifuge tube and are shipped with parafilm. The species is written on the tube.
Agar wedge orders ship Thursdays only.
Additional information
| | |
| --- | --- |
| Weight | 5 g |
| Title | Default Title |
Mycelium Colonized so Aggressively It Attempting to Overthrow a Sitting Government
Hold on to your mushroom hats boys. MMM's packing lightning-fast delivery, surprise giftos, and cultures with aggressive colonization — and I'm beyond stoked. Nothing better than starting with good genetics and this was a clear winner. I purchased via the email invoice and it was surprisingly quick and painless with zero issues/surprises. MMM was super communicative and prompt in all emails. Thanks, MMM, for knocking my warm-weather-lions-mane-innoculated SOCKS off with your fantastic customer service. I'm looking forward to becoming a regular.
Great experience
The lions mane wedge came very quick. Friendly interactions with the owner as well.. the MR payment method was easy to use. Overall pleased and will be returning
Awesome product!
MMM hooked me up with multiple great agar wedges with plenty of mycelium growth on them. In my experience, the heat-tolerant Lion's Mane is slightly slower at growth than regular Lion's Mane, but it makes up for it in being able to handle the temperature fluctuations better in my shop!
My order came on time and with a freebie. Great communication from the seller. I will definitely order again from mushroom man mycology. I paid with credit card but there are multiple payment options. Excited to see my Lions mane...
Excellent customer service and ease of payment
The lion's mane after wedge I ordered was part of a larger order containing several Moss's and some supplies. Entire process was seamless and timely. Product exactly as described and greatly appreciate freebies! Checkout process is great. Used cashapp but am certain all others methods work great also. I've used klarna with mmm666 and that has been great on previous orders as well. THANKS MUSHROOM MAN!!
Great experience!
MMM is fast to respond to questions and very knowledgeable. All items I ordered look great and I'm very excited to get this lion's mane to fruit!